This visit to Shanghai was a gastronomical one so there won't be a single post about the trip that does not involve food. In fact, our meals will be the focus of this travelogue. Allow me.
I arrived in Shanghai late on Thursday so all there was time for was to go through the motions at the immigrations checkpoint, slump in the backseat of the car as it took me into the city, and catch up with L between mouthfuls of Myojo Tom Yam cup noodles in Ben's apartment. I was pleased as a punch to see him after five days :)
This was my eighth time in Shanghai (!) so we didn't have to stress about making the most of our day, rushing from one attraction to another or doing anything touristy. We just planned our schedule around meals, and spent most of our time chilling out or shopping. I loved it.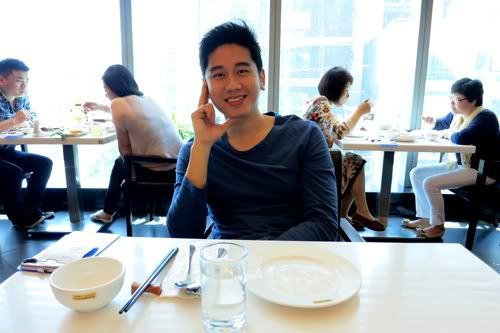 For some reason, I was quite exhausted from the flight (I don't know what L's excuse is :P) so we only managed to haul ourselves out of bed close to lunchtime the next day. Both of us got ready in half an hour and popped out to the metro just a few steps away for lunch at Charme.
Charme (also known as Gang Li) is one of my favourite restaurants in Shanghai. It is a Hong Kong-style restaurant/café that serves up an extensive array of fusion dishes, from dan dan noodles to spaghetti. I couldn't leave from a visit to Shanghai without going back to Charme at least once so I was glad we got it out of the way with this first meal.
The dan dan noodles is a must-order for us – it is the driest, chewiest and tastiest dan dan noodles I've ever had and I've not been able to find anything like it anywhere else so far. Comfort food at its best.
L also decided we needed to try something different so he ordered us the deep-fried bullfrog dish. The bullfrog dishes we have in Singapore are usually steamed so this was interesting. It wasn't bad but quite forgettable; kind of tasted like mildly-fried chicken and would go perfectly with rice.
Of course, being gluttons, we didn't think that was enough so we threw in a baked mushroom dish for good measure.
I've saved the best for last – The Bread Box. Don't be fooled by how simple it looks, it is DELICIOUS. The insides of the baked honey bread loaf, soft and fluffy, is sliced evenly into bite-sized cubes; it is topped with a scoop of vanilla ice cream and held together with the crust.
The combination is a nice balance of warm bread and cold ice-cream, sweet vanilla and milky dough – one of the best and most unique desserts you'll see around. I only regret feeling too stuffed from the earlier dishes to enjoy it more.
Post-lunch activity was a visit to the Shi Liu Pu fabric market (where the tailor's is) and a nice cool-weather stroll.

Charme Restaurant
299 East Nan Jing Road
Hong Yi Plaza
Shanghai, China
Tel: +86 21 6360 7577

Read the rest of my Shanghai travelogue:
Part 1 – A Charme-d lunch
Part 2 – Brunch at Jean Georges
Part 3 – The Spice Spirit service
Part 4 – Tang's Cuisine
Part 5 – Brunch at Kommune
Part 6 – Fabulous dinner at 8½ Otto e Mezzo Bombana