Oops, has it been a week since I last wrote? I meant to update last weekend but was consumed by church wedding errands, marriage preparation classes, and burying my nose in the Kindle. Have also been quite swamped at work so the last thing I feel like doing when I get home is to sit in front of a laptop again.
Anyway, it's time to reminisce about Paris.
We went to the La Ville-Lumière in May and since we returned, I felt like a piece of my heart has been taken away from me.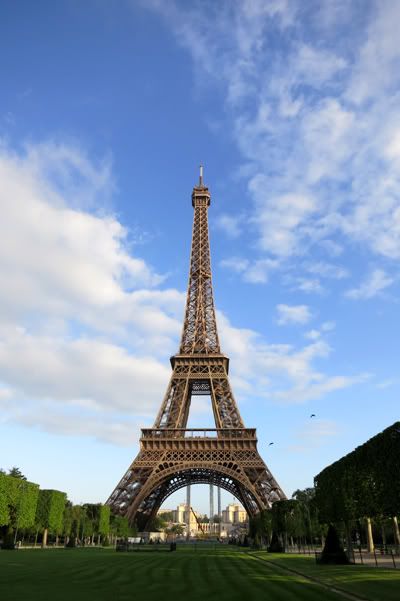 Oh, right, I think left it there.
I'm not being melodramatic here. I had such a fabulous time despite the fact that we spent the first part of our trip feeling a little stressed, despite the fact that we only visited three attractions and despite the fact that we never got a chance to visit the Eiffel Tower at night to witness its brilliant sparkles. I suppose it is not the attractions that make you fall head over heels in love with the city, it's not the shopping (not entirely, anyway), and most would agree, definitely not the people. For me, it's the pure and simple fact that I went with an open mind, fell in love the city and it loved me back. So I gave it a tiny piece of me.
If I had to pick a love song that best describes how I feel about Paris, it would be 'I Knew I Loved You' by Savage Garden. It sounds crazy but I loved it even before I set foot onto its soil (movies didn't help). I did try to manage my expectations after lots of warnings and advice from friends about safety, arrogant people, etc. but I fell right in anyway. Paris also overlapped some of the things close to my heart – being with L in the City of Love, travelling with my sisters-in-law-to-be, doing our pre-wedding photoshoot (a part of the wedding that was very important to me), and macarons. Ah, macarons :)
Shall stop jabbering about my love for Paris and get on with the travelogue. For this series, I will not be writing about what we did everyday but rather, just highlight some of the aspects that made up the wonderful experience. First up, the attractions.
* * *
I don't think anyone needs an introduction to this Gothic, Roman Catholic cathedral situated on the Right Bank of the River Seine. It was our first stop after attending the traditional Latin high mass at Saint-Nicolas-du-Chardonnet, a three-minute walk away.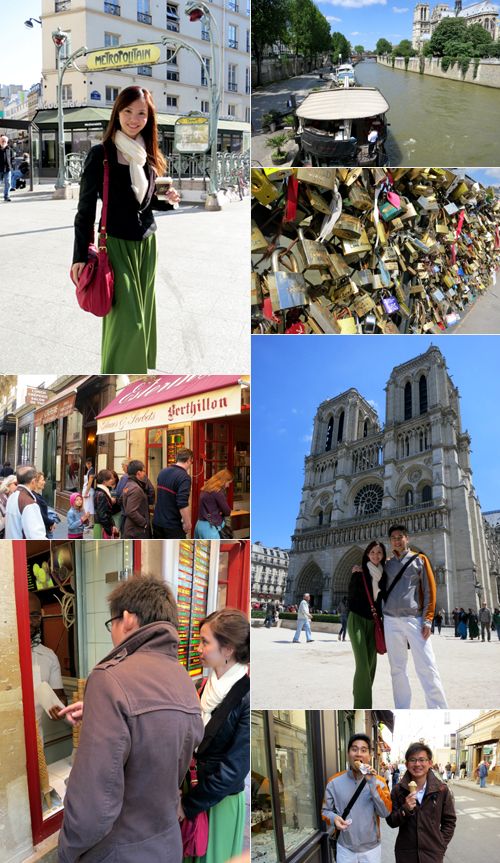 We met up with a friend of L's at the entrance of the cathedral, had lunch at a cosy French restaurant nearby and treated ourselves to the famous Berthillon ice cream for dessert. It was a chilly Sunday. Despite the glaring sun, we were shivering a little. There were throngs of tourists right outside the cathedral square going trigger-happy and queuing to enter. We decided to join the crowd since our tummies were already filled and the line seemed to be moving relatively quickly.
The interior, needless to say, was magnificent. Little wonder how they managed to build such a spectacular and intricate architecture without the use of machinery or technology. We pointed and gaped and took in the richness of the historic landmark, letting it seep into our being. I felt like we could spend more time there but it was too packed to really read everything so we popped out into the sun and went for coffee doing what the Parisians love to do – people-watch.
* * *
Jardin des Tuileries (Tuileries Garden)
This was our second day, right after a spot of shopping at Place Vendome. We were on our way to the metro and Lishan suggested taking the longer, but more scenic route. I've always read that the Tuileries Garden is a beautiful place but I didn't think I was prepared for the view that greeted me.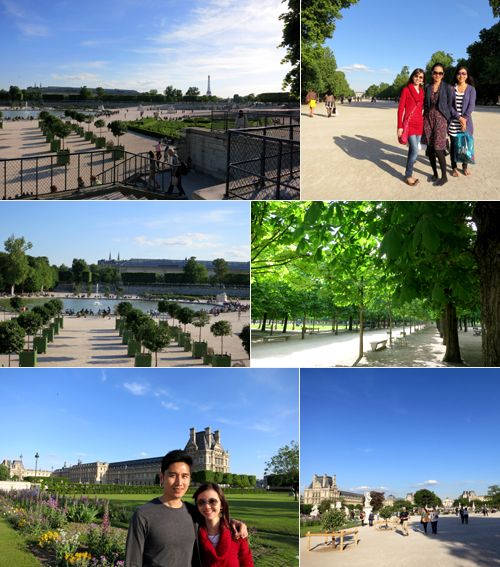 It wasn't the quiet, serene beautiful garden I'd envisioned. It was better. Imagine the sunshine splashing onto the pale sand and happy people, lovers sprawled on the many deck chairs by the pond, holding hands, teenagers enjoying ice cream, kids running amok, the movement of the pond's waters glinting as it caught the sun's rays… what a sight. A scene plucked right out of a children's colouring book.
We strolled past the pond, squinting and covering our faces from the glare of the sun, chattering about nothing significant. I was a happy bunny. Well, I should have been completely and utterly relaxed but half my brain was occupied with thoughts of, "Man, I wish the weather could be like this during our shoot", and "This lovely weather should be saved for another day". Oh well, make that a happy but slightly stressed bunny :)
* * *
Oh, the Louvre. Oozing with history and culture; a treasure trove of sculptures, artefacts and paintings. We knew better so we didn't set ambitious goals for ourselves. The only item on my check-list was to see the mysterious Mona Lisa painting during the three hours allocated for the visit.
We were lucky the queue was short. We found ourselves riding down the escalators under the glass pyramid barely fifteen minutes into our arrival and had a good laugh when we discovered that we were photo-bombed in the self-shots taken while in the queue (see collage below). The guy did it twice!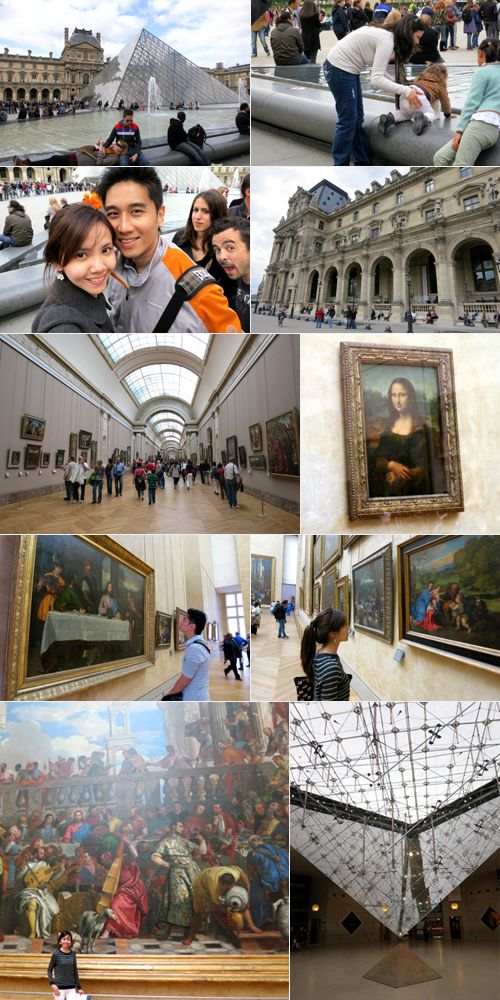 Boy, they sure made us work for it. We climbed steps, walked through long corridors and passed various rooms before we actually got to see the painting. I had expected a much bigger painting so it was a little anti-climatic. Nonetheless, I'm glad we saw it. That, and the many other life-like, detailed works of art that lined the walls of the museum.
* * *
So these were the only three attractions we visited at our own time. Our plan was to view some of them on-location (during the shoot) and use whatever additional time we had to shop. We figured there was no point going to the same place twice given the limited amount of time we had. To some extent, we achieved the objective of "seeing everything" but we never did get to hang around long enough to explore, immerse and learn, so yes, a remedial trip is in order. Very much so.
Next up – foodie fodder!

Read the rest of my Paris travelogue:
Part 1 – The attractions
Part 2 – The food
Part 3 – Macarons, my sweet love
Part 4 – Shops, shopping, shopaholics
Part 5 – Our pre-wedding photoshoot