Being a foodie and travelling with foodies meant we went armed with a list of restaurants and cafés we wanted to return to or try. There was also a whole list of recommendations from friends. Despite being in The Land of Michelin chefs, we didn't have the time or budget for any kind of Michelin-starred meals so that was a tad regrettable. We still had some very enjoyable meals nonetheless, and it's certainly not going to be our last visit so all is good.
Here are some of the places we tried which offer great food at mid-range prices.
* * *
Sorza
51 Rue St Louis en I'ile
75004 Paris, France
Tel: +33 1 43 54 78 62
This was our first full day and proper meal in Paris. Right after meeting up with a Singaporean friend at the square in front of Cathédrale de Notre Dame, we traipsed up Rue St Louis with a few options on hand. Sorza didn't top our list of choices (the first was too crowded) but it turned out to be one of the best restaurants we stumbled upon.
The interior is cosy and sits no more than ten tables. It's furnished with simple black lacquered tables, red walls, candles in little crystal glasses and subtle lighting. The service was attentive and the food exceeded my expectations. I loved how they did my French Onion Soup entrée, light and tasty with four slices of baguette soaked in. It was a very unique presentation and so comforting in the cold I could totally have a second helping if I didn't already have a pasta on the order.
* * *
Chez Papa
101 Rue de la Croix Nivert
75015 Paris, France
Tel: +33 1 48 28 31 88
I think Lishan did some research and read good reviews about this restaurant – or heard about it from a friend, I can't remember – so we decided to try it out on our third evening. After a crazy afternoon of shopping, we made our way towards Montparnasse and found it just a two-minute walk away from the metro station (thank goodness, I didn't think I could deal with more walking).
We were greeted by a waiter who (surprisingly) conversed with us in English. He took our orders very efficiently and left us to our chatter. It felt a little like dining in a big ranch home from the 80s with its wooden-ish furnishing, tan coloured tiled floors, red booth seats and inconsistent cutlery and plates.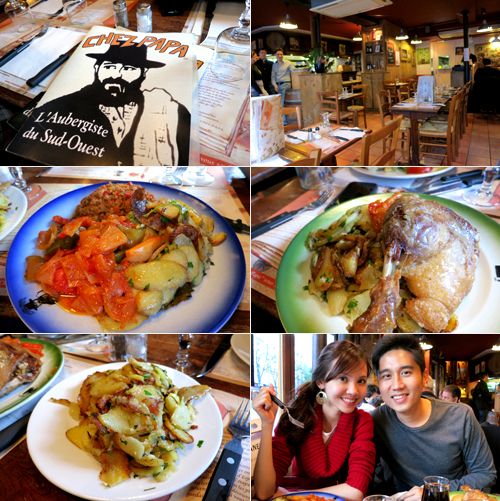 The menu consisted of a good variety of French food (with more than three variations of duck). L had the duck confit, I ordered the minced beef with potatoes, Lishan had some pork soup/gravy dish and Lixin had a ham omlette. All the dishes tasted homely and authentic, and the wine we ordered complemented our red meats nicely. I didn't manage to finish my share because the portions were huge so do order to share if you don't have a very big appetite. A real gem of a find (budget-friendly too).
* * *
Le Petit Prince
12 Rue Lanneau 75005
Paris, France
Tel: +33 1 43 54 77 26
Yet another one of Lishan's recommendations. This time, an intimate French restaurant with just steps away from the Pantheon. Its décor consisted of an eclectic mix of a scarlet front, pink, gold and cream interior, antique lights, heavy velvet curtain drapes and gilt mirrors.
I can't remember what exactly we had but if I took a poll, I think all of us would agree that this was quite simply one of the most fun and satisfying meals of the trip. Everyone whom we knew was in Paris was present at the table – L's cousin, her friend, L's sisters and S.
Food wise, there was a good variety on the table. Duck, seafood, greens, potatoes and more duck. We ordered both red and white wines and sent our three plates of desserts (musical-chair style) round the table, taking a mouthful of cake whenever a plate came to us until each plate was empty. T'was an enjoyable and unforgettable night :)
* * *
[Cocotte] by Christian Constant
139 Rue Saint-Dominique
75007 Paris, France
Tel: +33 1 47 53 73 34
Since this place came recommended by L, I thought he should be the one writing about it. He seemed quite keen when I suggested that he guest post but when I requested for his submission, he became very difficult and only after a bit of whining (and commanding) did he get down to doing it. I was quite pleased when he started typing away on his keyboard but when he was done, I came face-to-face with this lousy paragraph:
We went to [Cocotte] on the recommendation of a friend who is quite knowledgeable about Parisian restaurants. Founded by Michelin-starred chef Christian Constant, [Cocotte] serves classic casual French dishes cocotte-style (that is [find definition on web]), which is all the rage in the French dining scene [link YouTube video to cocotte dining in France]. All the dishes used the freshest ingredients and tasted homely and delightful. We will definitely visit again. Here are some pictures.
What a crappy guest post! *huff*
This was a post-photoshoot meal so L and I were completely relaxed, contented and happy. We ordered a bottle of rosé and toasted to a great trip. Just as well for L's cop-out post because I don't remember what we had well enough to do the food justice. Just know that if you're headed to Paris, [Cocotte] is a MUST-GO.
* * *
Café de Flore
172 Boulevard Saint-Germain
75006 Paris, France
Tel: +33 1 45 48 55 26
This is said to be the most famous café in the world. According to Frommers, Jean-Paul Sartre often visited the café in a leather jacket and beret, and sat writing his trilogy Les Chemins de la Liberté (The Roads to Freedom). It is also frequented by Camus, Picasso, and Apollinaire, and in recent times, fashionistas like Karl Lagerfeld.
I thought it would be very inspiring to plonk myself on one of those red and green straw chairs that had been sat in by such a long list of famous philosophy and literary clientèle. It might be the start of the novel I'm never going to write. Hmmm.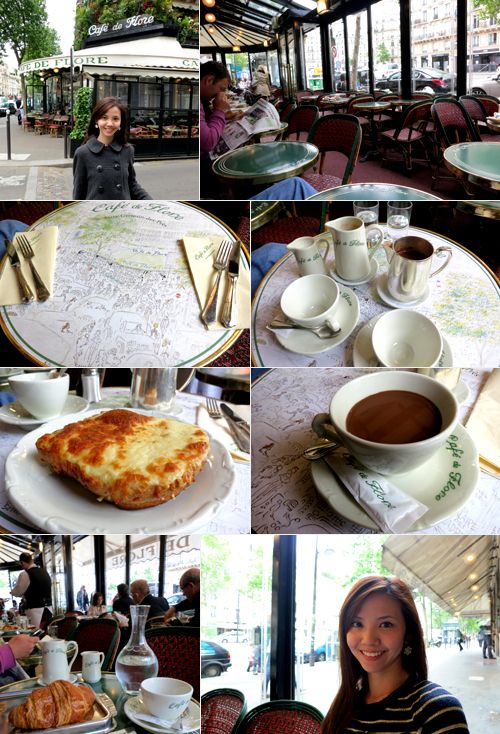 The service was polite but kind of rushed. I suppose you should expect that from a café that is so popular. They laid the prettiest table mat and served up a piece of soft, buttery croissant to start us off. Then came their famous hot chocolate, latté and a very savoury Croque Monsieur which we shared.
Maybe I was too busy with the food, or maybe the layers of clothing I had on made it very difficult for me to absorb any form of inspiration but I'm still nowhere near starting that novel. Oh well. I did like the vibes of the café enough to stay and people-watch long after my hot chocolate turned cold.
* * *
That is all for the enjoyable meals we had in Paris. Hope it made you a little hungry :)

Read the rest of my Paris travelogue:
Part 1 – The attractions
Part 2 – The food
Part 3 – Macarons, my sweet love
Part 4 – Shops, shopping, shopaholics
Part 5 – Our pre-wedding photoshoot