The birth is something I've long wondered about.
How would it start? How would it feel? What would the husband be doing? What are contractions like? Would my baby be fine?
All the usual questions from a first-timer.
Sometime halfway through the pregnancy, I also watched a few natural childbirth videos on YouTube out of curiosity (backside itchy) and scared myself so much I entertained the thought of an elective c-section. After I calmed down though, I wished for the contractions to start first – instead of bleeding or water bag bursting – because it meant I could labour at home for a bit and we would probably have time to prepare. L and I also talked about it a couple of times and agreed that so many elements had to be in place for a smooth delivery so after we hit full term, we just waited and prayed. If nothing happened before, we were scheduled to be induced on Friday, 8 August 2014, at 39 weeks.
But baby had other plans :)
* * *
Monday, 4 August 2014
6.30 a.m. Woke up and got ready for work as usual. Felt a bit crampy and thought it was an upset stomach so I parked on the toilet seat for a few good minutes but nothing so I gave up and continued with the usual dress-up and make-up routine.
7.30 a.m. Told L in the car that I may be having contractions because the crampy sensation happened a few times. But since they were very mild and irregular, I decided to go to work anyway and told him I will keep him updated.
9.30 a.m. Still getting the cramps between 15 and 45 minutes apart. Fairly irregular and I could still talk through them so no panic yet. I was presenting some slides at a meeting and could still keep a poker face with each wave so all was good. I established that they are indeed contractions but could wait. I started to note the contraction timings in my phone to keep track. They came at 9.33 a.m., 9.55 a.m., 10.14 a.m. and 11 a.m.
12.30 p.m. Had lunch with colleagues and even though the contractions were stronger, I could still laugh and chat. T'was a hearty lunch at Harry's.
4.47 p.m. Felt a stronger contraction which I had to stop talking to get through (but still very bearable) and decided to call it a day. Texted my boss, packed up and cabbed home. My sweet colleagues were so worried about me and offered to walk me to the taxi stand but I told them I was fine. L had work to clear so we decided to just meet at home.
5.15 p.m. Got home and took a nap. I figured if we were going to have the baby that night, I would need the rest.
6.30 p.m. Was roused awake by a particularly strong contraction (3 out of 10 on the pain scale) but continued napping for a bit.
8 p.m. Received an update from L that he's almost done with work and about to head home. "Waiting for you to go for prata!", was my reply.
8.40 p.m. L managed to finish clearing his work and swung by the home after to picked me up for our 'last hurrah' meal at Casurina Curry. He told me it was probably the most stressful day of his life, what with having to rush work and knowing his wife was having contractions at home. Haha.
PRATA! Maggi goreng! And iced Milo! Can you say shiok?
By this time, the contractions were coming quite frequently, between 5 and 15 minutes apart, and I could no longer talk through them. In fact a few times, I actually had to close my eyes and focus on getting through each wave.
9.30 p.m. Got home after dinner and took turns with L to pile the last of our stuff into the hospital bag while the other showered.
10.30 p.m. Contractions were slightly stronger by this time so we decided to give our ob-gyn a call to ask if she'd like us to be admitted. I told her I could monitor at home since they were still bearable but she advised us to head to the hospital. If it was a false alarm, she would send us home.
10.40 p.m. L and I spent the next hour cuddling in bed and anticipated what was to come. I also said a little prayer for a smooth delivery. At this point, I wasn't the least bit afraid – all I could think of was to focus on getting past each contraction and having the baby out safely.
11.40 p.m. Threw our bags into the boot, notified our immediate families and off we went to the hospital!
11.55 p.m. It was quite a smooth ride to the hospital at this time of the evening. We dropped our admission documents and were ushered into the labour ward.
Tuesday, 5 August 2014
12.15 a.m. Arrived at the labour room and was told to wait beside a counter. From where we were waiting, we could hear a very painful birth going on (the mother was giving off a sound that sat somewhere between a moan and a growl, and it was LOUD) and see medical staff rushing in with sterile packs, etc. This was so not the first thing I wanted to hear right before I deliver. I gave L a nervous laugh and he quickly brought me to the other side of the counter to wait. (We later found out that the mother arrived at the hospital 8cm dilated and didn't have time for pain relief. Yikes.)
12.30 a.m. At the waiting lounge, a midwife greeted us and asked me how the contractions felt. After I took her through it, she decided to check us into the labour room right away. "Looks like you're in active labour!", she declared. I was asked to change into their hospital gown but of course, I requested to wear my own. She very kindly obliged and even complimented the floral prints when I emerged from the bathroom like I was a little girl. Probably to make me feel better thinking I must be nervous.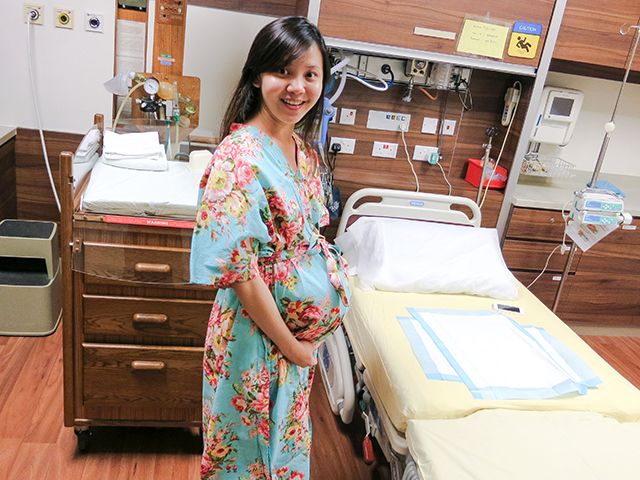 Experiencing the baby of contractions and telling L I may not need pain relief (HA HA)
12.45 a.m. Our ob-gyn arrived and checked my cervix – about 2cm dilated. She then burst my water bag and I could feel warm liquid flowing between my legs. I was promptly hooked up to a glucose drip and vials of blood were taken for cord blood banking. URGH, I HATE NEEDLES. I couldn't look so L held my hand and I closed my eyes throughout the process. This is the first time in my life being hooked up to a drip and I hate the sensation. But anything for you, baby girl!
1.30 a.m. After the water bag was ruptured, the contractions grew to 6 out of 10 on the pain scale. I could still bear with the pain and chat with L in between. I always knew I would need the epidural eventually but I wanted to avoid having it too early and risk slowing down the dilation so I continued to labour without.
2.30 a.m. Contractions were coming on strong and annoyingly frequent at 1 and 3 minutes apart. Each wave saw me clutching onto the rails at the side of the bed in agony and I could no longer smile or talk; I was focusing all my energy on getting through the pain, counting to 30 each time. After a couple of excruciatingly painful waves at one minute apart, I decided it was too draining and given that I was only 2cm dilated 2 hours ago, we were looking at another 7 to 8 hours of labour. I knew I still needed the energy to push later in the morning so I heaved to L and the midwife, "OUCH! EPIDURAL! NOW!"
2.55 a.m. The anaesthetist arrived and administered the epidural with me curled into a ball and held down by the midwife. I was so afraid of not being able to keep still because I tensed up to fight the contraction that were stubbornly a minute apart. Before I knew it, I felt a cold electric current run down my spine and the pins-and-needles sensation started forming on my legs. Because I lay on my left while the epidural was administered, my right side still felt the contractions so I was rolled over to my right to allow the medication to run through. By now, the contractions were no longer painful even though I could feel my stomach harden with each one. In my sleepy state, I declared to L, "Epidural is awesome! Epidural rocks socks!" He laughed.
3.15 a.m. The midwife returned to check my cervix – 4cm dilated. She also pressed my tummy and felt a full bladder so a catheter was inserted to empty it. Couldn't feel a thing.
4.55 a.m. L and I managed to catch some sleep. The midwife came in again to check my cervix and and I was 5cm dilated. She predicted things would move quite quickly from here because I was charting really strong and regular contractions. "It's a good sign", she assured us. From time to time, I could feel some pain because it seemed like the epidural flowed more to my left than my right. I had to lie on my right most of the night to get the medication flowing to the side but because I was numb waist-down, L had to help me adjust my legs a couple of times. I also requested that the epidural be turned on higher so that I could sleep.
6.45 a.m. We continued to nap but but by this time, with each contraction, I could also feel the urge to push. The midwife checked my cervix again – 8cm dilated. I was very relieved for it meant we could meet our baby soon. My biggest fear was that for some reason or other, I wouldn't dilate and we would have to go for an emergency c-section. (Blame this on all the horror stories people share when they hear you're about to pop.) Another catheter was inserted to clear my bladder.
8.52 a.m. I could no longer sleep because of the urge to push so we spent the an hour or so chatting and resting. Our ob-gyn arrived to check my cervix and announced that I was fully dilated. "It's now time to do some work", she said, and left the room. She said she's headed for her clinic and will be back later. I was a tad confused because wasn't I supposed to start pushing now and wasn't she supposed to be present?
9.15 a.m. Another midwife came in and taught me how to push. She also instructed L to count and showed him how to support my head. She then asked if I wanted to try doing some pushing. This was the real labour. Riding on the urge to push from the waves of contractions (which were coming at 2 minutes apart), I pushed and pushed to guide the baby out. It was quite exhausting so I skipped a few contractions to catch my breadth. With each wave that I tried, I pushed with all my might with L the cheerleader counting me through each push. The midwife was very encouraging and repeatedly assured me I was doing well. Finally, she exclaimed that she could see baby's hair and went off to call my ob-gyn.
9.55 a.m. Our ob-gyn arrived and got into her gear. My legs were propped up on the rails and she and took me through two more rounds of pushes before telling me to stop. She then administered a shot of local anaesthesia and did the episiotomy.
10.11 a.m. With one final wave of contraction, I could feel the baby pushing past and sliding out (I didn't even have to push). Our baby's loud wails filled the room and I closed my eyes in exhaustion. L planted a kiss on my forehead and went to take photos of baby in the warmer as she got cleaned up and had her height and weight measured. Meanwhile, I was asked to make one final push to deliver the placenta before I was sewn up. "Does she have hair?", I asked L. "A lot!" :)
* * *
Our baby was brought to me as I had requested for a skin-on-skin and a latch on as soon as possible. She suckled and squirmed. It was so surreal. I couldn't believe this baby came out of me. I placed her on my chest and stroked her little wet head. We took some family photos as we were waiting to be transferred to the maternity ward. She was alert throughout and looked around curiously at the bright lights and surroundings. L and I mused to each other about her looks – her double eyelids, her ears, her chubby cheeks. Already, she was the cutest thing on the planet to us.
I honestly can't quite describe how I felt. There was a mixture of happiness, relieve, hope and love. I cannot forget the look of love and exhaustion on L's face, the warmth of our baby's skin on me, the relieve that our baby is safe in our arms. At that moment, I could only see and feel my husband and daughter and no one else. It was a magical morning.
It was the calm and intimate birth I prayed for and in that moment of quiet, I thanked God for his blessings.
Welcome to the world, baby girl
♥