Finally getting around to penning down Javier's birth story after two weeks of postpartum adjustment and recovery. Am happy to share that in that time, I've rested and ate well, my episiotomy wound is almost fully recovered, and I've somewhat gotten my waist back (the remaining little paunch will have to wait till I'm cleared to exercise again).
This time around, while there's still a level of uncertainty as to how the actual birth will pan out, we already know what to expect for a straightforward delivery. Unlike the first though, there were some planning and logistics involved to ensure Ashleigh has someone to take her to and from school, and have someone care for her should I go into labour.
Thrown into the mix the week I hit full term was Ashleigh catching a mycoplasma infection, L's last minute activation to Hong Kong and a cervix that was not yet dilated when I was SO DARNED READY to pop. You see, taking care of a toddler is physically – and dare I say, mentally – exhausting on it's own. Taking care of a hurricane, clingy toddler when you have a full term belly, aching groin and limited physical abilities (like getting off the floor) is a whole other ball game. I couldn't wait to get rid of the bump and really wanted to go back to being nimble again.
Thankfully, at my insistence, we saw the ob-gyn the following Tuesday, just 4 days after she told me my cervix was not ready for induction and what do we know, I had dilated about 2cm! So despite knowing that L was busy at work, I told my ob-gyn I was ready to induce and she made the necessary arrangements for me to be admitted that Thursday.
* * *
Thursday, 30 March 2017
5.30 a.m. My alarm went off and I rolled off the bed – ooof! – to get ready. Our hospital bags have been packed so all that we needed to do were throw in our toiletries and get changed. We needed to be admitted early because it was an induction and I had an anaesthetist booked to get in the epidural before the actual induction. Yes, I'm all for pain-free, thankyouverymuch ;)
6.30 a.m. We arrived at the hospital and headed directly for the labour ward as we had already done the paperwork for the admissions earlier. We were met by a friendly nurse who ushered us into the delivery suite. Felt a sense of deja vu as we stepped in. L settled himself in while I changed into my birthing gown. Let the labour begin.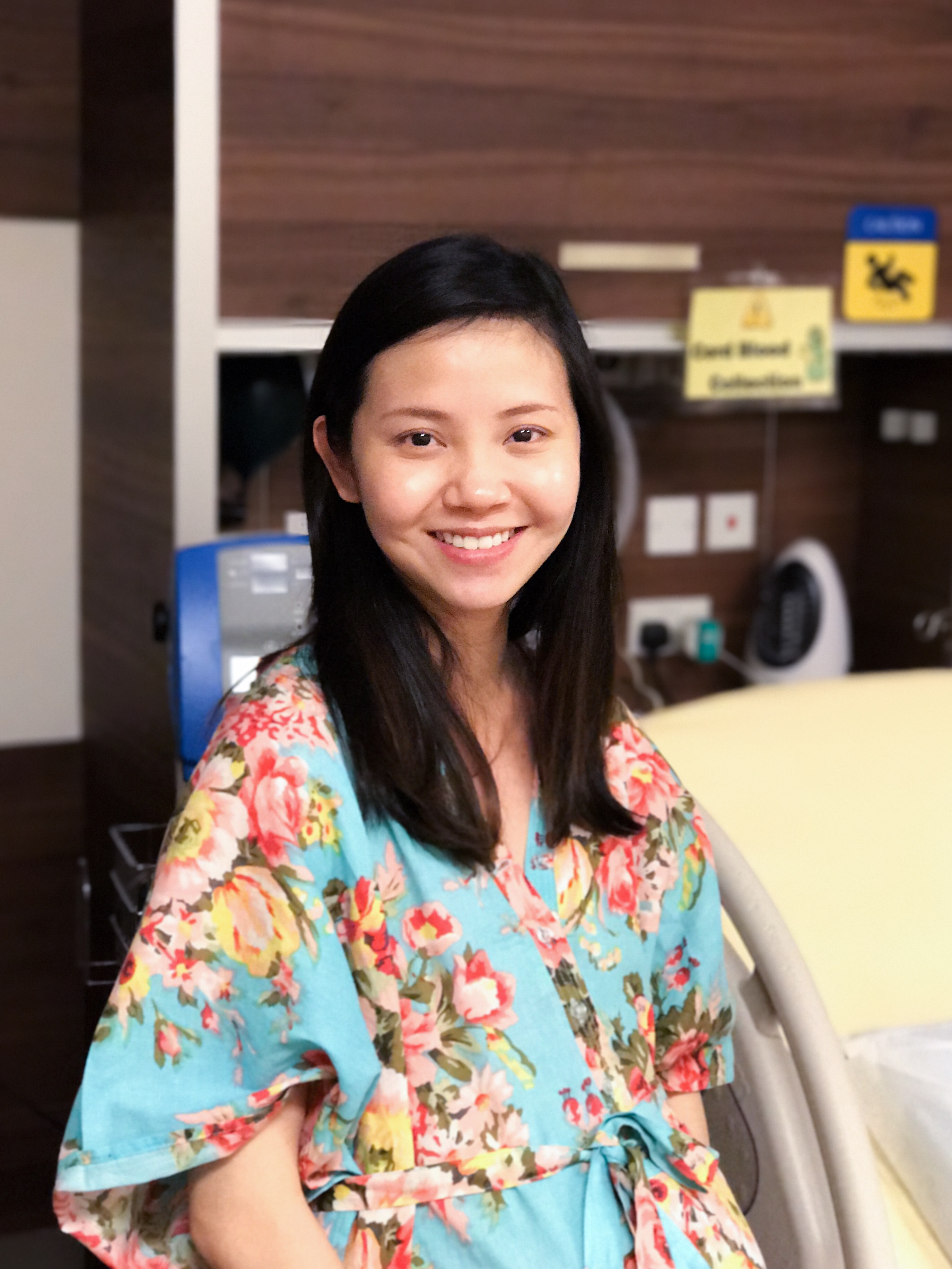 6.50 a.m. A midwife came in and administered the Fleet enema. This was something I was not prepared for as it didn't happen for Ashleigh. It felt weird and I was told to hold it in for as long as I could before going. It was hard and didn't help that the husband was reminding me every. single. minute. how much I needed to go (think he had fun taunting me but I'll let this go). Cleared my bowels sufficiently for a week. After that, I was hooked up onto a glucose IV – ugh, HATE NEEDLES – and put under strict instructions to not consume any food/drink. We were interviewed on my previous delivery, signed some forms, then got comfortable and played with our devices while waiting for the anaesthetist.
7.40 a.m. The anaesthetist arrived and administered the epidural. I think this was something I was most anxious about because I hate needles. But she was extremely gentle and very pleasant so despite the fear and the dreaded stinging sensation that shot into my spine, I was as relaxed as I could possibly be and the glorious numbness on my lower body kicked in within 15 minutes. Boy, was I relieved. Did I mention that I hate needles?
8 a.m. The nurse started the induction process by hooking me up to a oxytocin drip. As the epidural started off quite low, I could feel the contractions kicking in hard and fast, so much that I had to actually breathe through each one. Buzzed the nurse to turn up the epidural by a bit so that I could rest. All was good again in ten minutes.
8.57 a.m. My ob-gyn arrived and did a VE – I was 3cm dilated. She then proceeded to burst the water bag. Before leaving, she also suggested L go for a brunch because she expected all the action to start around noon/early afternoon.
9.15 a.m. I managed to drift in and out of sleep while L went down to grab himself a bite and a coffee. He was planning on giving me some contraband sips but nurses who saw him return with the cuppa questioned if it was for me and warned him I was under doctor's strict instructions to fast. LOL.
10.20 a.m. A catheter was inserted to clear my bladder and another VE was done – 5 to 6cm dilated.
11.28 a.m. Another nurse came in to check on me and did another VE – 9cm dilated, whoop! The nurses went into a flurry of action and started getting me into position.
11.45 a.m. Felt strong urge to push with every contraction and started to feel quite excited because we know what that meant – we were going to meet our baby boy very soon!
12 p.m. My ob-gyn arrived and put on her gear. Baby had already crowned and all I needed to do was to focus my energy and push.
12.12 p.m. About four mega pushes and our baby boy was out! He was placed on me immediately, all blood and slime, and I was so overwhelmed with happiness and emotion that I teared. After cutting his umbilical cord, he was brought to the warmer to be cleaned up and L commented that he was a good size. Weighing in at 3.305kg and measuring 52cm, he was much bigger than I expected so I was surprised that the actual pushing was so quick, and thought that my ob-gyn had assisted me with vacuum or forceps but she said, "No! You did it all on your own! Well done!"
12.38 p.m. Baby was brought back to me for some skin-on-skin and I latched him on for the first time. He nursed like a pro from the get-go and drank hungrily for 20 minutes. L and I took in every bit of him – his eyes, his ears, his nose, his complexion – and basked in happiness at welcoming our new baby.
Welcome to the world, baby boy. We love you so much already.
* * *
As this pregnancy had many distractions and taking care of Ashleigh occupied a lot of my free time, I did not have much time to think or imagine a baby in my arms. I know. It sounds silly. While I knew I was pregnant, I did not actually have the free headspace to imagine carrying a baby (as I did countless times while pregnant Ashleigh). So when he was placed on my chest right after birth, it was so surreal and hit me all at once. I was overcome happiness at having a lovely baby, and guilt at not having thought much about him until then.
We spent the rest of the day catching up on whatever rest we could at the maternity ward, between interviews, menu selection, blood pressure and temperature checks, etc. Baby was brought to me every three hours to nurse and each time, I rehearsed in my mind how Ashleigh would take to her baby brother. I missed her so much already.
My in-laws picked Ashleigh up from school that evening and brought her to the hospital to visit me. She grinned when she saw me, hopped onto my bed and curiously asked, "Mama, what are you doing?" I think she meant to ask what I was doing there, and we told her I was resting. L went to the nursery to get Javier and pushed him in with presents for his big sister. I must say she was more interested in the presents than her brother. She ripped them open with glee and exclaimed, "Thank you, didi!!!", then proceeded to check the bassinet again and asked for more presents!
After putting the gifts away, we asked if she would like to carry her brother, and she did. So we got her into position and placed baby on her. She was apprehensive and smiled shyly. I wouldn't say it was love but she definitely liked the little human she saw ;)
My family is complete ♥