In these weeks (and then days) leading up to the big day, I alternate between getting extremely excited watching everything fall into place and hating the planning process, like now, when the pressure is mounting, when we have to make a mad sprint to briefcompilepackcomplete everything. Heck, I'm even having an inflammed throat already. There really isn't a worse time to fall sick.
I've gone for the final fitting for both my wedding and evening gowns and no alteration was required except for the hem of the wedding gown, where she had to trim according to my shoe height. Michelle (the designer) was quite pleased and muttered to no one in particular, "If only all my brides were like you". Well, if only she knew how hard I tried to gain weight. I just did not succeed ;)
Then there was the hen and stag night which our respective bridesmaids and groomsmen planned for us. It coincidentally fell on the same day (last Friday) and L, who was adamant about not touching alcohol, told me he would be home early that night, right after his sumptuous seafood dinner with the boys. Knowing how crazy my girls can get, he was prepared to "go to bed alone". Oh, the night could not have been any more different.
Mine turned out to be a homely gathering at Gi's place. They ordered food and candy, we took turns to get a massage on Gi's OSIM uDivine, turned on the telly and chatted. There wasn't a drop of alcohol and the closest we got to male strippers were Josh and Tony (Adel and Gi's husbands) whom I would pay to have them keep their socks on. It wasn't anything remotely wild, you can say it's boring even, but it was nice just hanging out.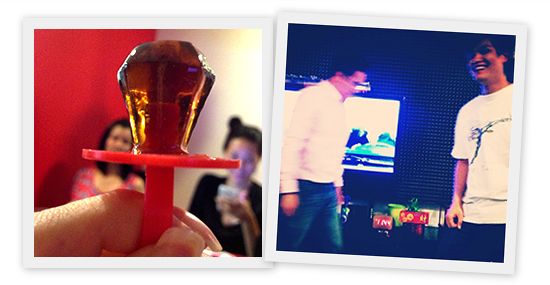 L, on the other hand, had an exciting, booze-filled night. After dinner, they adjourned to SS' place for drinks. There were hard liquor and random card games, then he got so inebriated he crashed on the couch for the night. SS was nice enough to send me a photo of a drunken L, smiling away idiotically, and informing me he wouldn't be coming home. It was hilarious (I would share it here but I think he would kill me). What was that about going to bed alone again?! Famous last words, I say.
So I took the whole week off work to rest and run errands. Monday was my day of preening – I scheduled back-to-back appointments so I spent the entire day in town, scurrying from one beauty salon to another.
Tuesday was a girls' day out with my mum and sisters (it was like a hen's day with family). I took them for a dim sum lunch at Imperial Treasure, brought my mum for a manicure, shopped from ION to Somerset 313, and stopped for random coffee breaks at Ya Kun and Pique Nique.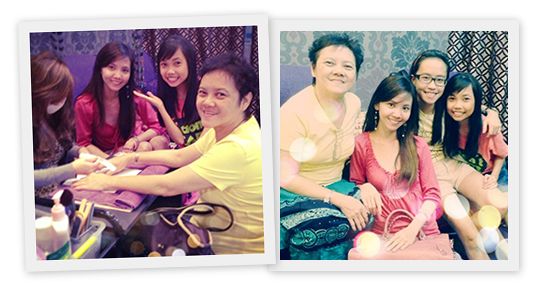 I've grown to appreciate my mum tremendously in recent years, especially after seeing my friends have kids and understand how difficult motherhood can be. And also because I'm starting my own family. I have much to learn from my mum and can only hope to be half the selfless and loving wife/mother that she is. Anyway, I'm really glad we had a full day of quality mother-daughter time before the wedding.
And yesterday, we went to the Registry of Marriages to pick up our certificate for signing this Saturday. My folks came along too. It was a largely unromantic and administrative process much like the e-filing (we were in and out in 15 minutes), but we still took some photos for posterity.
We're just two days away! Sore throat, begone!