The CBD after six is usually one filled with quiet streets and lonely, illuminated lamp posts save for the last of the shoppers trickling out of the malls or party-goers en route to a club. L and I walked down Jamison Avenue from our hotel, along Hunter Street, and rounded the corner at Pitt Street. We spotted a queue outside one of the few bustling businesses and I joined the line while he went on to make sure we were at the right place. Boisterous crowds, music, whiffs of pasta sauce and a sign on the glass panel confirmed it. Yup, we have arrived at Jamie's Italian.
Did you think the queue was for a table? That would be too good to be true. We stood in line for 30 minutes to – brace yourself – get a queue number. It was followed by a 90-minute wait for a table for two. Quite absurd, I know. We would normally have just walked away but thankfully we had a late lunch and our hotel was just up the street so we trooped back to take a nap and watch some telly.
We went back after the stipulated waiting time and were escorted to our table shortly.
The restaurant felt to me like a Brooklyn loft apartment (think the Humphrey residence in Gossip Girl) – wood-panelled floors, multi-coloured chairs, black railings, deliberately rustic with a huge crystal chandelier centrepiece at the entrance. Definitely got that right for me, I love chandeliers.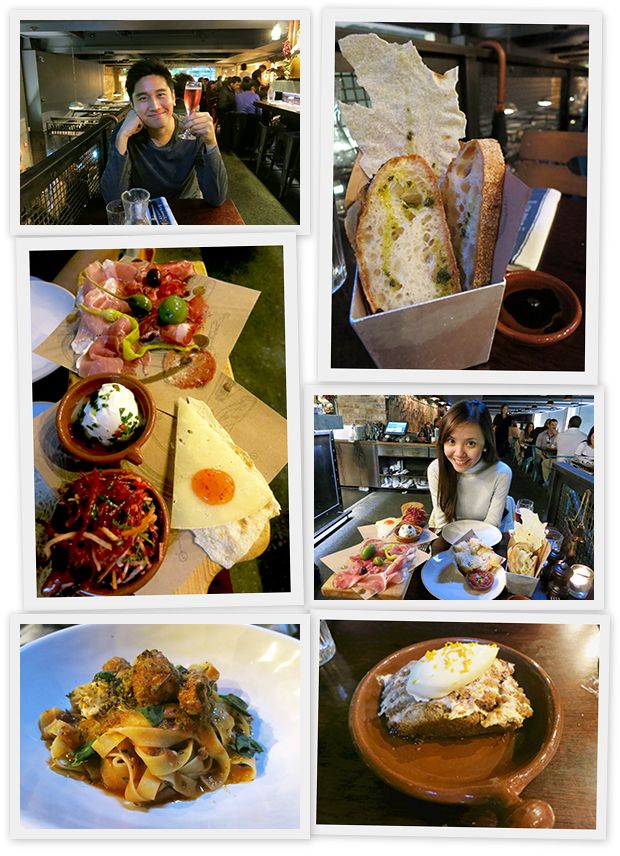 We ordered a plank of cured meats and olives for starters, a pumpkin and smoked mozarella nachos side, two pasta mains and an apple crumble for dessert. While waiting for our orders, we were also served a variety of soft, warm, freshly-baked Italian breads on the house.
I will be honest and admit that time has somewhat erased the memory of our experience (that's what happens when you take too long with a travelogue) but I recall we were especially pleased with the nachos and blob of cheese on the plank. The rest of our orders were flavourful and actually did make us feel like they were worth the crazy wait. Service was brisk but not rushed, and the wait staff were all friendly and chirpy.
As I procrastinated on this post, Jamie's Italian made its way onto our sunny shores and will be opening an outlet at Vivo City very soon. I look forward to checking it out and definitely hope the queue isn't going to be as ridiculously long!