Sorry this took awhile. I've saved the best meal in Shanghai for last :)
Dining at 8½ Otto e Mezzo Bombana was one of the highlights of the trip. Located just steps away from The Bund, within the newly-renovated Rockbund development, the restaurant boasts a stunning view of the Pudong skyline and The Bund. But honestly, if you ask me, it's more the decadently delicious food than the view that would draw me to the restaurant for a second visit.
There is already so much great food in Shanghai but the appearance of Umberto Bombana's Shanghai establishment of his three Michelin-starred restaurant has upped the ante of fine dining in the city. L only found out about the restaurant through his friend, C, while he was there and managed to score us a table for four even though he called only two days in advance. But before you think they accept last minute bookings, I have to qualify that it was newly-opened, our reservations were for a Monday night and our slot was for 9 p.m. So I would imagine that as word gets out, it would only get more difficult to get a slot. Do make your reservations as early as possible.
Foggy view of the Pudong skyline from Puxi
After spending the afternoon cooped up at the tailor's, L decided we should head out for dinner early and pop by The Bund for a short walk. So we did. For such a chilly Spring evening, there sure were a lot of people hanging outdoors. Half of the Oriental Pearl Tower was hidden behind the fog but tourists and locals alike seem happy just leaning against the railings by the river, watching the lighted boats glide by and capturing memories of the night.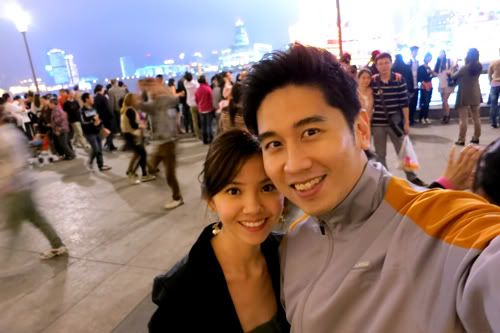 We had intended work up an appetite with the walk and I wouldn't have minded except that I was quite – ok, make that very – under-dressed for the chilly evening. 20 minutes into the walk, my teeth started chattering and jaw started aching so I felt quite miserable and grumpy, indeed. Not like my vanity was any of L's fault but he had to bear the brunt of my discomfort and cut short the stroll.
It got infinitely better once we were within the maroon walls of the Mission Building. We hopped into the old school wooden lift and made our way up to the sixth floor. A wait staff greeted us at the entrance and showed us to our table in the main dining room, which was located by a window with a stunning view of the city lights.
As I perused the menu, the bread basket containing mini baguettes, focaccia with sun-dried tomatoes and some other seeded bread was served. C and D arrived shortly after. We could now embark on the evening's gastronomic journey.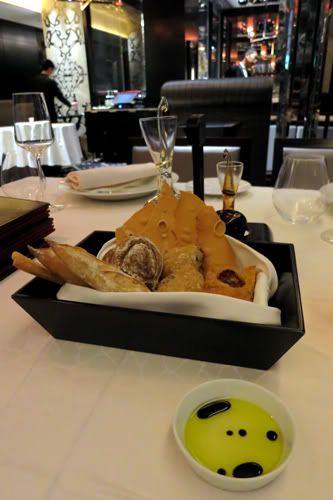 The meal started with the day's amouse bouche of freshly-shucked oyster on caviar. Sounds good to some of you? Not me. I am not a fan of oysters and neither is L. Believe it or not, it was both our first times trying out fresh, uncooked oysters. I was ready to let it go to someone else but talked myself into giving it a shot since I would have to try it at some point. I took photos of us with the single oyster to document our virgin attempt at 'kissing the sea on the lips', drenched it with a slice of lemon and introduced it to my taste buds.
With all that rave about oysters and people dedicating an entire blog post to the taste of oysters, I was half expecting the ocean to explode in my mouth. I chewed lightly and waited… and almost had a gag reflex. I might have thrown up if I hadn't forced it down my throat in a single gulp. What a travesty, right. I know. This is really just not for me, I'm sorry. I would give oysters another shot if an opportunity comes along (and I'm pretty sure oyster lovers would kill for the one I just had) but the first time just didn't do it for me.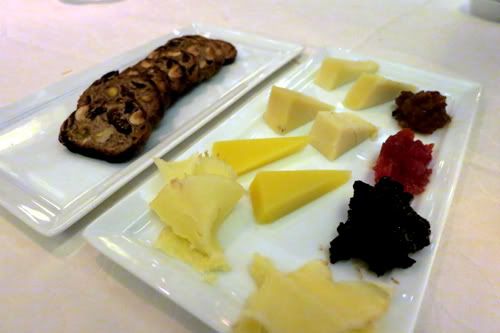 D ordered a platter of cheese because C insisted we must try them (they were great but I can't recall what we had), and selected a 2009 Ca' Marcanda Gaja Promis from Tuscany for the table. I normally prefer whites but this bottle was a pleasure to drink – deep red, fruity, medium-bodied (somewhere between a Merlot and Sangiovese) with soft tannin. I found my glass empty twice that night. That's saying a lot.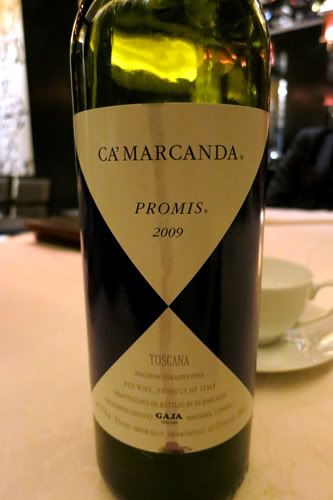 L and I shared an appetizer of warm scallops which came with garden vegetables and black olives, all resting in a bright puddle of sweet pepper mayonnaise. The scallops were fat and sweet and incredibly succulent. I love scallops and would probably not have shared it with anyone if I could help it but, ah well, I decided I shouldn't be bratty and selfish to my date :P
C also ordered the foie gras with eel and toast for the table. I feel for goose liver the same way I feel for shark's fin so I was adamant about even trying it but she urged me to because it was too good to miss. I scrapped a mini forkful and as the taste sunk in I immediately thought, "Ohhh dammit, it is REALLY good." It was so annoyingly fabulous I would disregard my cholesterol levels and morals and live with the guilt for a bit.
Urgh, why do I have the spine of a snail when it comes to food??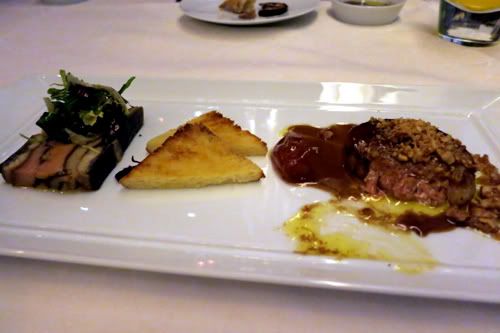 Now onto the mains. I ordered the short rib and beef tenderloin that came with seasonal vegetables, red wine plum sauce and potato purée. Even though I had them done medium-well, the short rib was meltingly tender, lightly charred on the outside and lusciously pink and juicy in the middle. No blood, exactly how I like my steak.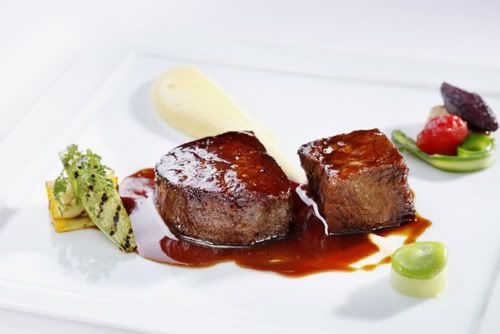 For his main, L had the pappardelle with lamb & porcini ragout and rosemary. I only managed to steal a mouthful and have kind of forgotten how it tastes like. If L is willing to contribute, I'll add his review here (hint). At this point, I think D and C were selling the expat lifestyle and trying to convince me to relocate to Shanghai. They are remarkably skilled salespeople so I must have been quite distracted, maybe even a little swayed. Not helped by the fact that there I was, having one of the best meals of my life smack in the middle of said city.
And so the fabulous journey ended. With one of the most unique petit fours I've ever had. Actually only one item of the four blew me away but it fully made up for the rest. See that gold-looking blob on the spoon? That's the one. I thought it was a jellybean of some sort but when I popped it into my mouth, I had to stifle an inappropriate gasp. The thin layer of gold jelly gave way to an explosion of pear/almond flavours and rested on my taste buds lightly… Bombana is a wizard.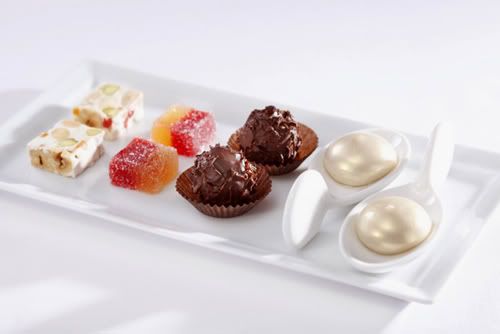 Ah, good food does make one very, very happy, indeed. I felt like bliss as we stepped out into the quiet night and walked down the cobblestone and lamp-lit streets of the Rockbund with L. It will be a while before I visit Shanghai again. Can't think of a better way to end the evening, or a better meal to conclude the trip with.

8½ Otto e Mezzo Bombana
6/F, Mission Building
169 Yuanmingyuan Lu
Huang Pu District
Shanghai, China
Tel: +86 21 60872 890

Read the rest of my Shanghai travelogue:
Part 1 – A Charme-d lunch
Part 2 – Brunch at Jean Georges
Part 3 – The Spice Spirit service
Part 4 – Tang's Cuisine
Part 5 – Brunch at Kommune
Part 6 – Fabulous dinner at 8½ Otto e Mezzo Bombana