This took awhile and some effort to put together, but I decided to wrap up the wedding posts by sharing our actual mood board and our list of wedding vendors as a reference for brides-to-be because I found that the best insights I got during my own wedding planning came from blogs.
After comparing the actual mood board with the one I did during our planning here, I was quite pleased to find that it didn't deviate too much from my vision. So to the brides-to-be who care about sticking to a theme or colour scheme, my only advice would be to spend some time doing up a simple mood board with the key elements (venue, stationery, outfits, florals, etc.) and use that to guide you through your decision-making. You'll see from mine that even though it didn't turn out quite the same, I didn't go too far off either.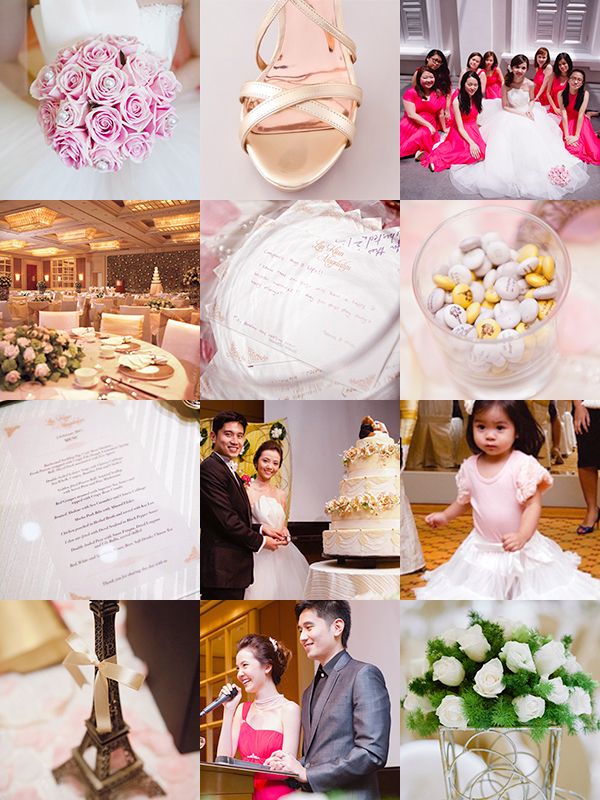 And now for the list…
Gowns and Suit — It didn't take much shopping for us to decide that Bridal Veil (BV) was the one for us. I am allergic to tacky gowns with feathers, sequins on lace and what-have-yous so when I came across the classy, clean, Swarovski crystal-detailed designs by Michelle Huimin, I knew this was it. BV specialises in made-to-measure (MTM) gowns, designed based on each bride's style, preference and frame. I had a lot of fun working with Michelle on both the wedding and evening gowns.
The BV team is also the most professional wedding vendor I've engaged. They never fail to call up a day in advance to remind us of our scheduled appointments, shared extremely useful (but commonly overlooked) wedding tips, was always prepared for our appointments and never once overlooked our preferences/requirements no matter how minute they were. Truly your dream vendor. It had been an amazing experience working with them and I would highly recommend them to any bride-to-be who is going for great service, an elegant look and impeccable workmanship.
BV delivers just as excellently even if you're planning your wedding from abroad – check out Rachel of The Pleasure Monger's wonderful experience with them here.
Hair and Make-up — My actual day hair and make-up came with package that we took on with Bridal Veil. I never thought to look further because Cedric was praised by friends who were clients of BV. I also read a lot of good reviews and saw some of his works on blogs (and liked them) so even though the trial session didn't blow me away, I wasn't worried. Cedric wasn't just my make-up artist, he was also our consultant and point of contact during our fittings. Throughout our encounters, he was always jovial, warm and professional. You could also tell that he's very passionate about what he does.
For my actual day make-up, he managed to skilfully enhance my features while still keeping to the natural look I wanted. He made the effort to genuinely understand my preferences and delivered the look exactly the way I wanted. We worked so well together and, really, if you're a bride-to-be who have already signed up (or have decided to sign up) with BV, I couldn't recommend Cedric more.
Venue — Hotel banquet weddings are most common in Singapore but there are hotels, and then there are wedding hotels. Conrad Centennial Singapore is evidently a wedding hotel as much as it is a business hotel. In fact, it is so wildly popular with couples that we had to book a whole 14 months (!) in advance after being on a wait-list with three other couples in front of us. It definitely wasn't because we were kiasu, I assure you (I never would've believed it if we weren't actually experiencing it first-hand). That's not surprising to us now though. It may not be the most luxurious in town, but it definitely has one of the most experienced and professional wedding teams around. Our coordinator, Janice, and banquet manager, Min, were most helpful, positive and meticulous. The food from Golden Peony, were served individually to our guests. Everyone who gave their feedback raved about how impressive each dish was and how generous the servings were. Don't underestimate how much your guests value the food; serving lousy food can get them tsk-tsking for years. This was one of our top reasons for picking Conrad.
Another critical part of our selection was the ballroom which fitted our anal criteria to a 'T'. We wanted an exclusive ballroom, no pillars, high ceilings, comfortably-sized, with a straight march-in aisle. We also wanted the reception area to be exclusive and not shared with another event. The hotel was also flexible enough to waive corkage for the night's alcohol so we were able to bring in our own wines and liquor without paying extra. And then there were also thoughtful little gestures on the actual day like handing us hot towels to wipe our hands with as we were sending guests off for the night, anticipating our exhaustion and serving us hot tea at various points during the banquet. The ambience was lovely, and the standard florals filled the ballroom sufficiently so we didn't need to spend more to add on. It was run like a well-oiled machine, and till today, we are still patting ourselves on the back for picking Conrad for our wedding venue.
Photography — I came across Gabriel Mendes Photography while doing some random surfing and stopped for a long time on his site to scroll through his works. I've long raved about how much I adore Paris so maybe it was a sign that right after we got engaged, Gabriel launched a promotion for wedding shoots in Paris. I dropped him an e-mail, we met up for coffee and before we knew it, we were handing him the cheque to what was possibly our biggest wedding splurge – an engagement shoot in Paris. Coincidentally, Gabriel has shot a couple of our friends' weddings and they only have good things to say about him so that validated our choice. (I wrote about our pre-wedding photoshoot in more detail here.)
Gabriel is a warm, honest and funny guy, and he really knew how to help us loosen up so we had a lot of fun working with him. He has a real talent for capturing outdoor journalistic shots, which was exactly what I wanted. Anyway, I shall not rave any more than I already did… you be the judge.
Photo Booth — There are quite a number of photo booth vendors in the market but what made Live Moments our choice was that they were able to offer both the photo booth as well as roving in the ballroom. If you have elderly relatives whom you know wouldn't bother queuing up at the photo booth during the reception, having the ballroom roving during the banquet will ensure that they also go home with a memento. Al, our photo booth photographer and contact person in Live Moments, was thoughtful enough to spend more time with the relatives (especially those at the VIP table) during the banquet roving so I believe most of our guests, young and old, went home with an instant print.
Live Moments also prides itself on delivering quality prints and it was one of the few photo booth vendors that had nice borders/designs even though I eventually did the design myself to match the rest of my wedding stationery. I also did the backdrop design and Al very kindly threw in the production for me at no extra cost. He was also very obliging in helping me put together a bunch of good quality, French-themed props because I requested for classy props, i.e. no clown noses and afro wigs. It was a pity I didn't get to spend much time at the photo booth but everyone who did told us that it was soooo much fun!
Jazz Band — L is big on music and I'm a sucker for ambience. For our wedding, these two went hand in hand because having live music enhanced the mood of our banquet tremendously. After spending one lazy Saturday afternoon watching video clips on YouTube, we engaged Dawn Wong and Summertimes Hotshots from High Notes Music to perform at our dinner banquet. The follow-up can be improved but they are understandably busy with all the performances they are doing. What impressed me was that our rounds of changes to the band's configuration and numerous questions were responded with good cheer by August and Martin. L told me later, and I agree, that the band performed beautifully. It was exactly as we envisioned the mood to be and we thoroughly enjoyed the music while tucking into the first two courses of the dinner, brief as it was. If I had to pick only one add-on for our wedding, it would definitely be the band.
Candy — I mentioned that I ordered personalised M&Ms for the cocktail reception so I just wanted to share how I got them. For Online orders, M&M only delivers within the U.S. so I used a freight-forwarder, vPOST (which gave me a virtual U.S. address), to deliver them to Singapore. M&M also accepts international orders but you would have to call the hotline to place your order and with the time difference, it's a bit of a hassle, not to mention the exorbitant international calling charges you'll incur.
The whole candy production, forwarding and delivery process would take about a month so be sure to order them early enough to get it by your big day but not too early such that it melts, especially in Singapore's humidity. It is a little tricky but I would think a good timeline would be about a month and a half before your event. As for the quantity, I ordered the 5lb bulk bag and placed them in glasses scattered throughout the reception foyer. If you're using it as favours you may need a bigger pack so just order accordingly.
* * *
There are other elements like stationery design and printing, videography, florals, pianist, etc. but they were all done by my extremely talented cousins and friends so I can't be of help for these, but I do hope the vendor list above will help overwhelmed or confused brides-to-be in your planning and decision-making.
This post is already looking like a novel so I'm just going to end off with some sites which I frequented and found inspiration from:
That's all, folks. Enjoy the process because I sure did :)
HAPPY PLANNING!!!